Interview with Mark Forward of Concord Security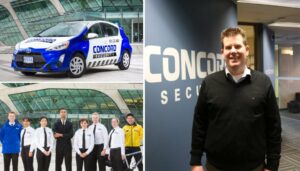 At Outsource Marketing, we are very fortunate to work with many inspiring leaders of small to mid-size companies. When the opportunity arises, we like to ask them a few questions about themselves, their career, and what they would like to share with aspiring leaders and entrepreneurs. Here is the second of our ongoing series of interviews – Mark Forward, Vice-President and General Manager of Concord Security.
Since joining Concord Security in 1992, you've moved from being a front-line employee into a senior leadership position. How does that experience help you manage day-to-day?
I think it really comes down to perspective. As you alluded to in your question, my first role with Concord Security was as a Security Guard. But I moved quickly into other positions within the organization, and spent time in many departments, including payroll, accounting, human resources, sales, and account management.
This experience across various disciplines really helps me understand how different departments need to work together in order for the organization to deliver upon the commitments it makes to customers. I more fully understand the different challenges and perspectives of various departments within Concord. I understand how they interface, and what's required for them to work together, and not at cross purposes, to meet and hopefully exceed our customers' expectations.
The perspective I've developed as a result of wearing so many different hats at Concord Security has also proven to be tremendously helpful in managing our firm's significant growth over the years. As an organization, we have a pretty good idea of where we are, and where we want to be. And I'm in the fortunate position of having a really good understanding of how each department needs to evolve and develop in order for us to achieve our business objectives.
Which role at Concord Security has taught you the most about being an effective leader?
I would have to say my current role. As General Manager, I really have my hands in everything. This role allows me to maintain a very good understanding of what's going on "in the field", as well as across our various departments and offices.
An important aspect of my role is to act as an interface between our clients and the organization. I meet with clients to try and better understand what's working, what's not, and how our service offering must improve and evolve for us to continue to bring value to the relationship. The exciting part is then taking that knowledge and finding how it can translate into new initiatives within the organization. We are always looking for ways to get better and deliver security and parking services more effectively and efficiently.
To me, being an effective leader is all about listening to the client, understanding their business, and guiding the organization to identify and implement strategies, like new training or innovative technology initiatives, that help us contribute to their success in a meaningful way.
You have an impressive list of clients that have been with Concord Security for a long time, some more than 20 years. Why do so many of your clients stick with you for so long?
I think our culture has a lot to do with it – a culture that is all about creating a great working environment for our employees and delivering an exceptional experience for our clients and their customers.
We work really hard at creating a fun, enjoyable work environment for our employees, and I think that really helps them provide the best possible service to our clients. We pride ourselves on treating everyone, from front-line staff and supervisors to managers, the same way – fairly, honestly and with a great deal of respect.
Another reason why I think clients stick with us for so long is our emphasis on finding the right people to join our team. We are very good at training new employees – so our focus is on finding the right kind of individual, someone that will care about the job they do, and are keen to contribute to the overall success of the organization. We really look for people that care about others and want to help not only themselves to succeed, both those around them as well. We hire for fit and train for everything else.
I would also say that our stability is another important reason why clients stick with us and continue to renew our contracts year after year. Our management and the supervisory team are seasoned, and for the most part, have been with the company for quite a while. That stability, and employee continuity, is due, I think, in part to the enjoyable and healthy work environment we've created. Listening to and engaging employees, acting on their suggestions, promoting from within, and helping them develop a long-term career at Concord are just a few specific steps we've taken to strengthen the organization and give clients the confidence to continue to select Concord Security.
What achievement are you most proud of from your 24 years with Concord Security?
The 2010 Winter Olympics. It was a huge challenge and opportunity. And I am incredibly proud of how our entire organization came together and contributed to the games' success.
As you know, security is a critical element to the success of an Olympic Games. We recruited, hired, trained and managed 400 security personnel for the Vancouver games. It's one of the defining moments in my career and gives me a lot of satisfaction.
The stability of the organization, and the fact that we have so many clients that have been with us for a long time, a few approaching 30 years, also makes me proud. And our reputation in the industry. Concord Security is a well-respected name in our industry, something we've built yearly, client by client and site by site.
If you could go back in time and give your younger self a piece of advice, what would that be?
Never over-promise. Do what you will say you will do – without exception.
Our business, like many others, I suspect, is exceptionally competitive. And there is a natural tendency to promise clients the "moon." But I believe, to this day, that your word is your most important thing. Don't say you will do something unless you are 100% sure you can deliver.
Mark has been in the security industry with Concord Security since 1992. He has a Bachelor of Business Administration degree from Simon Fraser University and is a Chartered Professional Accountant. Mark is in charge of all of Concord's business operations and, in 2009, was named to Business in Vancouver's Top 40 Under 40 list of top local business people. Since February 2013, Mark has served as Concord Security's Vice President and General Manager.