Proposal Writing
When losing is not an option
Just Like You, Our Proposal Writers
Love to Win
Our proposal writing service will dramatically improve your chances of winning your next RFI, RFQ, or RFP (Request for Proposal).
A winning business proposal demands a team of proposal experts that obsess over every detail. For example, you need freelance bid writers that author score-maximizing responses and graphic designers who communicate the strengths of your bid visually.
We ensure every requirement is met and deliver a submission on-time and stress-free. And we know how to write a winning proposal, with the results to prove it.
We work with clients from BC to Ontario with proposal writers located in Vancouver, Calgary and Toronto.
Move Your Bid from the Side of Your Desk to the Front of Ours
There is a strong chance you don't like RFP proposal writing. As a result, you probably do them at the end of the day or on weekends. However, they need to get done because they represent new revenue and growth opportunities.
Authoring professionally written bids is exciting for our team of proposal writers, editors, and designers. You've got a business to run, leave the freelance bid writing to us. We will show you how to answer an RFP successfully.
Let Our Proposal Experts Be Your Competitive Advantage
We write four to five tenders every month. As a result, we've written nearly 500 submissions over the past 10 years. It's true we've won more than our fair share. But we've lost a few as well. Each RFP response, however, is an opportunity to learn what works and how to persuade evaluators.
Above all, each RFP or RFQ debrief has helped us refine our methodology and improve our clients' odds of winning. With every submission, our RFP proposal writing service gets stronger and our team of proposal experts more capable. When you hire Outsource Marketing, our bid and tender consulting experience become your competitive advantage.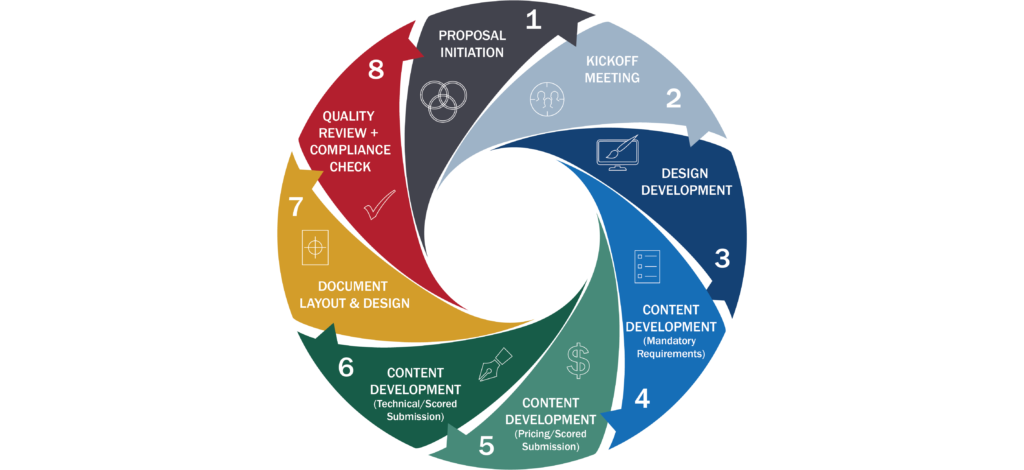 How to Write an RFP Proposal
Proposal chaos can reign supreme without a well-defined process to follow. In addition, you need an understanding of best practices and tools to streamline the work. If you don't have a proven system to guide you, your chances of authoring a winning submission are dramatically reduced.
From developing a winning proposal strategy through to final compliance and quality check, our bid writing service is designed to efficiently produce high-quality proposals – with less anxiety and stress.
We've Helped Organizations Just Like Yours Win
It's one of the first questions we get – "Have you ever worked on a similar business proposal?" The answer is almost always "Yes." We've helped clients from nearly every industry, including not-for-profit, win all types of proposals – projects large and small, across North America.
From a brief sales proposal to the most technical RFP submission, we've supported clients, just like you, win new work with professionally written business proposals. We've perfected the art of tailoring our bid writing service to fit the needs and budget of our clients.
An Impressive Record of Tender Writing
When responding to a public RFQ or RFP, competition can be fierce and evaluators demanding. In other words, the difference between success and failure is razor-thin. We beam with pride every time a client wins. Over the past decade, our technical bid and tender writers have done a lot of smiling.
We've been on the winning side of more than 300 submissions with a total value of in excess of $1B. It's a team effort, and we are fortunate to work with some very successful firms. But our clients are quick to acknowledge our sizable contributions.
Book your Free Consultation Today!
During an initial 15-minute call, you'll understand why clients return to Outsource Marketing for our proposal writing services, and how our proven proposal system delivers results.
We'd be happy to share some past winning proposal samples.