RFP Development Services
A Turnkey Procurement Management Solution
Looking for an RFP Writing Solution?
If you need help authoring an authoritative Request for Proposal (RFP) and managing the entire procurement management process, you are in the right place.
You probably already know that RFP writing can be a time-consuming, laborious process ripe for mistakes. Mistakes that you and your organization can't afford to make.
A professionally written RFP and rigorous procurement process are invaluable for selecting a qualified proponent for an important project or service need. It helps guide unbiased and informed decisions by ensuring each proponent provides information to carefully crafted questions to help you make the best decision possible for your organization.
How to Author an Effective RFP
Writing an RFQ or RFP might be challenging if you've never done it before. You're probably thinking to yourself:
What questions should I ask to find the businesses most suited to my organization's requirements?
Where should I post the bid opportunity to ensure maximum visibility among qualified proponents?
How do I manage the procurement management process, including responding to inquiries from proponents and issuing addendums?
How do I evaluate the proposals fairly and transparently for all participants?
Developing an RFQ or RFP can be difficult, especially if you've never done it. If you have more questions than answers, contact the team at Outsource Marketing.
We work closely with an organization's leadership team at every step of the procurement process to help identify the successful proponent while minimizing lengthy negotiations and clarifications.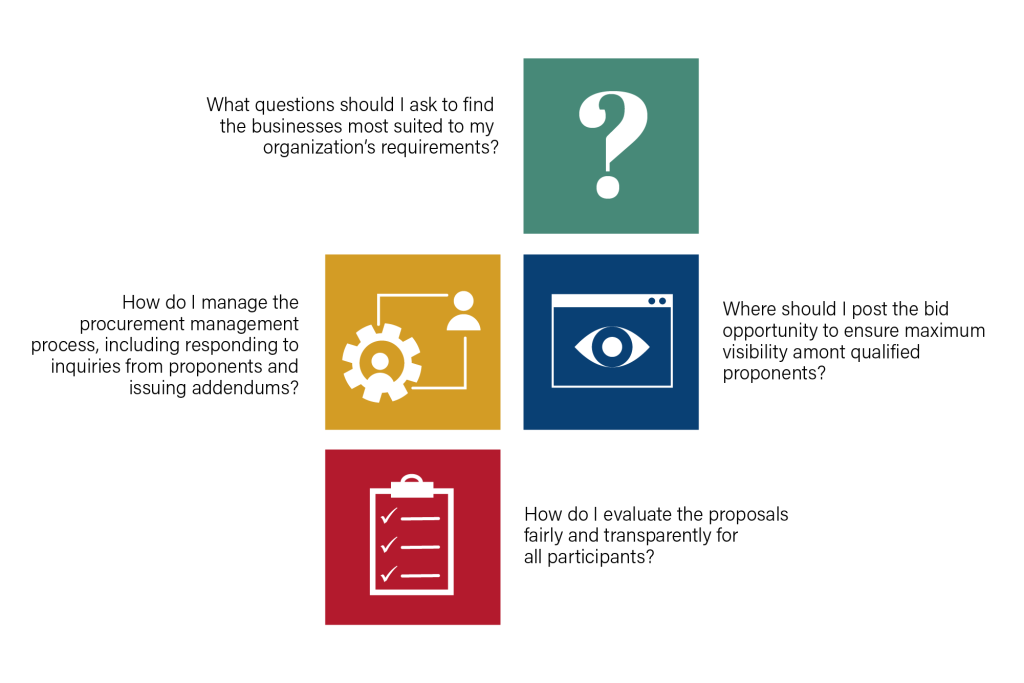 Leverage Our Proposal Experience for Your Procurement Management Success
Over the last decade, we have completed more than 500 proposals representing nearly every sector of the economy. We have read and navigated through thousands of bid documents. We consistently author RFPs and RFQs with thoughtful questions and transparent evaluation criteria that lead to proposals that separate the average proponents from those exceptionally well-qualified.
We now offer our services to those that need to buy services and hire consultants through a formal procurement process, leveraging our expertise in preparing RFQs and RFPs responses.
We've helped:
Property management firms chose a parking management services provider
Real Estate development organizations select construction partners
A Pharmaceutical association retain specialty consultants for fixed-duration projects
Building owners identify specific sub-trades for renovation projects
Our Six-Step RFP Solution and Turn-Key Procurement Management Process
Our RFP development process is thorough and has been refined over many years to ensure a successful outcome for clients. Generally speaking, it involves the following six phases:
Kickoff meeting, where we will work with you and your management team to complete our RFP Development Questionnaire
Research, including online research and speaking with subject matter experts to ensure your RFP and supporting bid documents are correctly structured and ask the right questions
RFP development, review and approval to ensure the very best document possible is made available to proponents
Publication and promotion of the documents on the best-suited bidding platforms to ensure that as many qualified candidates see your RFP as possible
Support to address any proponent questions and issuance of addendums
Evaluation of proposals and assistance in choosing the best proponent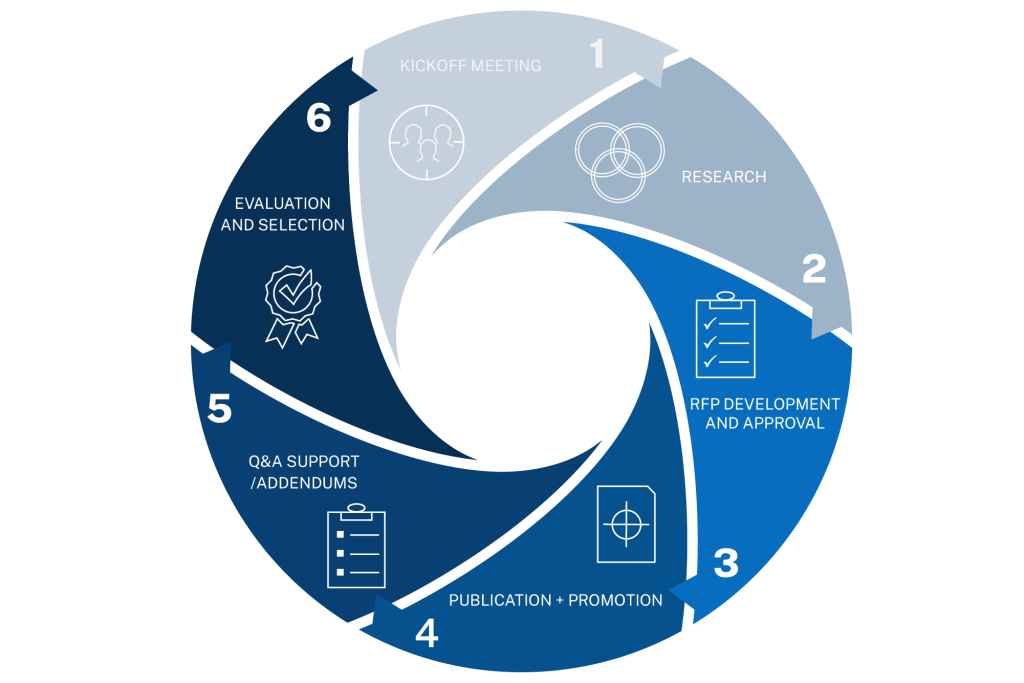 Finding the best service provider with the proper combination of experience and credentials can feel like looking for a needle in a haystack.
A professionally written RFP, supported by an efficient and comprehensive procurement process, will ensure you identify the best service provider for your business. Call us today to learn more.
Book your Free Consultation Today!
During an initial 15-minute call, you'll understand why clients return to Outsource Marketing for RFP writing needs and how our proven system delivers results.
We'd be happy to share examples of our work and answer any questions you may have. Let's get to work.
RFP Development
Frequently Asked Questions
We understand that navigating the world of requests for proposals can be daunting, and you may have lots of questions about procurement management and how to author an effective request for proposal.
We've assembled a list of frequently asked questions regarding procurement management, requests for proposals, and how to write an effective request for proposal document.
What is procurement management?
Before diving into procurement management, let's quickly understand what procurement means and what it involves. Procurement is simply a transaction between a buyer and seller. Businesses need to procure goods and services for continuous and uninterrupted operations. With procurement management, your firm takes the next step in ensuring that the procurement process is managed efficiently, boosting productivity and reducing costs.
Procurement management also enables the procurement manager to meet project or business goals by negotiating contracts and managing the supply chain with a set of guidelines.
Procurement management benefits include controlling spending, improving efficiencies, developing better relationships with suppliers or contractors and strengthening the supply chain.
What do procurement managers do?
Procurement managers are responsible for sourcing and buying products and services from suitable suppliers or contractors for their firm while maximizing value and minimizing risk. They build an impressive network of suppliers or contractors and spend a lot of their time preparing Requests for Proposals, negotiating contracts, meeting and interviewing suppliers or contractors and advocating for their firm. Procurement managers are also purchasing managers.
The procurement manager works across departments and with associates at all levels to understand the firm's needs. They have a big-picture view of the firm to create an effective purchase strategy to procure supplies or services at a budget.
What are the main processes of procurement management?
Once you have decided to issue an RFP, it is time to begin the procurement management process. The process takes you from preparing the RFP to selecting suitable suppliers or contractors and ending the contract after successful completion. It typically involves these key steps:
Planning: Start with an outline to determine the information you need to prepare your RFP.
Preparation: After gathering all the information, you can start writing your RFP, keeping it as brief and simple as possible.
Issuance: Issue your RFP either directly to proponents or publish it on an opportunity bid portal such as Merx or BC Bids.
Evaluation: Once all the proponents have submitted their responses to the specified deadline, it is time to open the submissions and review the answers against the set evaluation criteria.
Selection: After a challenging evaluation period, you would have narrowed the selection to two or three proponents that have met all the requirements and appear suited for the contract.
Management: Award the contract and invite the selected proponent to sign the agreement and start the work. At this stage, you probably need to negotiate some of the terms and conditions or price to reach a mutual agreement. From then on, you will manage the suppliers or contractors until they complete the project as per the specifications
Closing: This is when the project comes to a successful end. At this stage, you will end the contract, inspect the project for full completion, make all final payments, and determine any lessons learned.
The procurement management process follows a logical order, making it easy to manage. It also increases efficiency, keeps teams on the same page, and prevents procurement risks, such as selecting an incapable supplier or contractor.
What are the roles and responsibilities of a procurement manager?
Procurement managers have a range of daily tasks that change based on their firm size. The typical roles and responsibilities of a procurement manager include the following:
Meet with senior management and department heads to understand the needs across the firm
Forecast supply and service needs for the firm
Write or contribute to the preparation of RFPs and develop a set of guidelines for responses
Interview suitable suppliers or contractors for their products or services
Identify profitable suppliers or contractors and initiate/negotiate contract agreements
Track and report metrics to reduce costs and improve productivity
Complete a risk analysis for all contract agreements
Control costs and build a culture of long-term savings through procurement
What is a request for proposal?
A Request for Proposal (RFP) is a document created by a company to announce a project or a problem they would like solved. An RFP can be issued by organizations, such as corporations, governments, private firms and not-for-profits, to solicit proposals from qualified suppliers or contractors.
After issuing an RFP, you will have a selection of interested proponents that can meet your requirements, and you will select the suitable proponent based on your evaluation criteria.
Companies prefer to issue RFPs as it helps to gauge how well each supplier and contractor understands the requirements, compare skills and competencies, and determine the best rates to complete the project. The RFP helps you quickly uncover the strengths and weaknesses of proponents without having to invest too much time searching for them. A compelling RFP leads to securing the right supplier and contractor through a mutually agreed contract.
How do you create a request for proposal?
There are no set rules on preparing an RFP, as it differs for every organization and industry. But there are a few essential steps to preparing an effective RFP. A key step is to create an outline to determine what information you will need to develop the RFP further.
Establish the project specifications or problem to be solved, the budget, guidelines, timelines, structure of the response, weightage for each question, and expectations you have for the suppliers and contractors. Once you have the outline finalized, you can start gathering your information and compiling it into a striking RFP.
What does a request for proposal look like?
The Request for Proposal is a well-articulated and presentable document in which the procurement manager and key department heads outline the firm's requirements, the project's needs, or the problem they need to solve. It could be a 10-page document or more, depending on what you want to include in the RFP. Some procurement managers include their firm's standard terms and agreements, making it more than a 10-page document.
How do you evaluate a request for proposal?
The evaluation stage helps to determine which proposal offers the best overall value and combination of price, service and quality. So when you review each response, you will need to evaluate them using a method where you can compare responses objectively.
Essentially, you will need to set evaluation criteria with weighting for each question or section of your RFP. A good approach is to map out your goals, objectives, requirements, budget, and ideal solution along with a priority ranking and then see how the responses align with each one. It does not have to be complicated.
A simple 5-point system, for instance, can help you compare proposals and match each evaluation criterion. The weighting also helps the proponents focus on responding to the questions that matter most to your firm and the selection process.
What does a request for proposal include?
Every RFP is different and depends on the opportunity and the information you need from the potential suppliers or contractors. There is no limit to the information or questions you include, but you want to minimize the information and questions to simplify the evaluation process.
RFPs usually include some essential information such as:
Your firm's background
A description of the project or problem with the desired results
Scope of work
Project milestones and dates
The expected proposal format
Specific questions
Evaluation criteria and weighting
The proposal contact for submission and questions
RFP response deadline and expected contract award date
Guidelines on how to submit the proposal
At times, RFPs provide a fixed budget, but this is optional to ensure proponents set a price within the approved budget. You can always add more, like your firm's terms and conditions, sample agreements or insurance requirements.
As mentioned earlier, there is no standard format for RFPs, but once you familiarize yourself with the process, you will appreciate the flexibility of preparing RFPs.