RFP Development Services
A Turnkey Procurement Management Solution
Looking for an RFP Writing Solution?
If you need help authoring an authoritative Request for Proposal (RFP) and managing the entire procurement management process, you are in the right place.
You probably already know that RFP writing can be a time-consuming, laborious process ripe for mistakes. Mistakes that you and your organization can't afford to make.
A professionally written RFP and rigorous procurement process are invaluable for selecting a qualified proponent for an important project or service need. It helps guide unbiased and informed decisions by ensuring each proponent provides information to carefully crafted questions to help you make the best decision possible for your organization.
How to Author an Effective RFP
Writing an RFQ or RFP might be challenging if you've never done it before. You're probably thinking to yourself:
What questions should I ask to find the businesses most suited to my organization's requirements?
Where should I post the bid opportunity to ensure maximum visibility among qualified proponents?
How do I manage the procurement management process, including responding to inquiries from proponents and issuing addendums?
How do I evaluate the proposals fairly and transparently for all participants?
Developing an RFQ or RFP can be difficult, especially if you've never done it. If you have more questions than answers, contact the team at Outsource Marketing.
We work closely with an organization's leadership team at every step of the procurement process to help identify the successful proponent while minimizing lengthy negotiations and clarifications.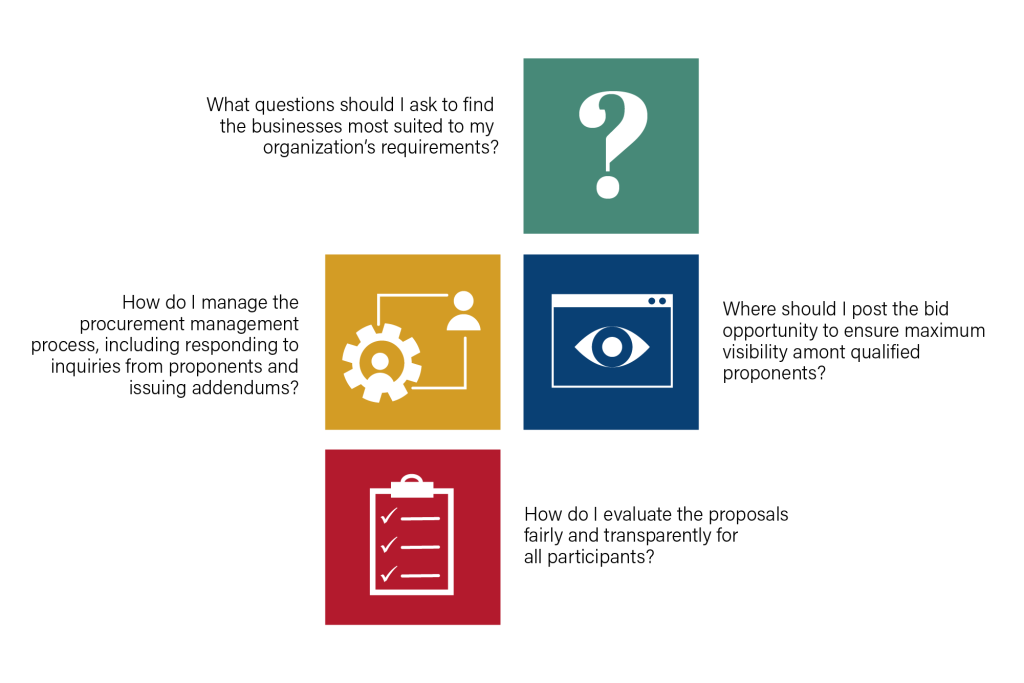 Leverage Our Proposal Experience for Your Procurement Management Success
Over the last decade, we have completed more than 500 proposals representing nearly every sector of the economy. We have read and navigated through thousands of bid documents. We consistently author RFPs and RFQs with thoughtful questions and transparent evaluation criteria that lead to proposals that separate the average proponents from those exceptionally well-qualified.
We now offer our services to those that need to buy services and hire consultants through a formal procurement process, leveraging our expertise in preparing RFQs and RFPs responses.
We've helped:
Property management firms chose a parking management services provider
Real Estate development organizations select construction partners
A Pharmaceutical association retain specialty consultants for fixed-duration projects
Building owners identify specific sub-trades for renovation projects
Our Six-Step RFP Solution and Turn-Key Procurement Management Process
Our RFP development process is thorough and has been refined over many years to ensure a successful outcome for clients. Generally speaking, it involves the following six phases:
Kickoff meeting, where we will work with you and your management team to complete our RFP Development Questionnaire
Research, including online research and speaking with subject matter experts to ensure your RFP and supporting bid documents are correctly structured and ask the right questions
RFP development, review and approval to ensure the very best document possible is made available to proponents
Publication and promotion of the documents on the best-suited bidding platforms to ensure that as many qualified candidates see your RFP as possible
Support to address any proponent questions and issuance of addendums
Evaluation of proposals and assistance in choosing the best proponent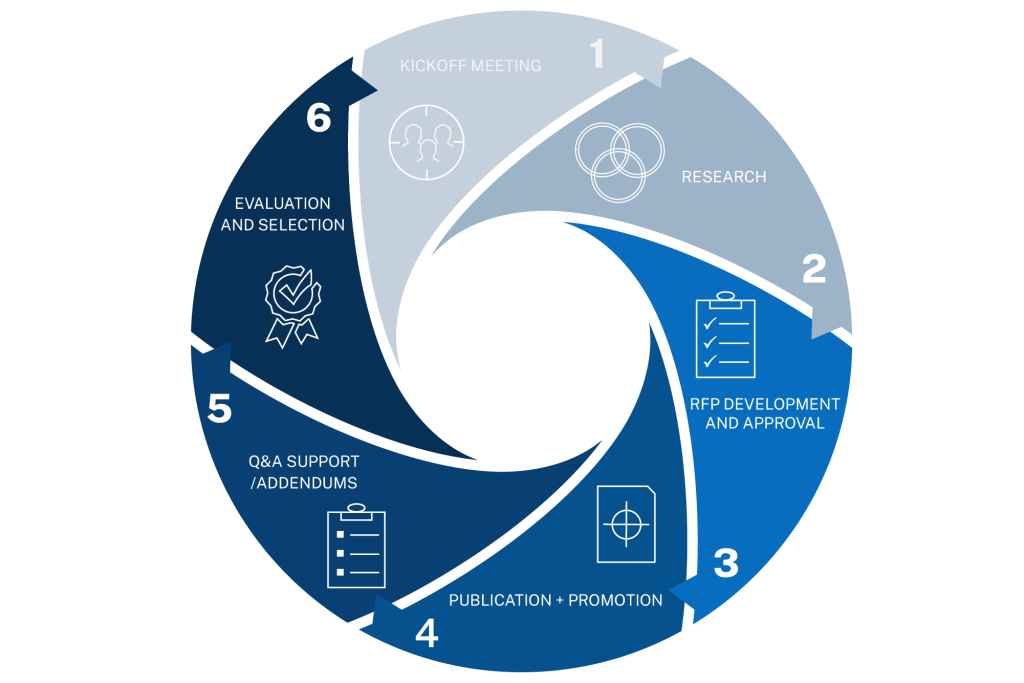 Finding the best service provider with the proper combination of experience and credentials can feel like looking for a needle in a haystack.
A professionally written RFP, supported by an efficient and comprehensive procurement process, will ensure you identify the best service provider for your business. Call us today to learn more.
Book your Free Consultation Today!
During an initial 15-minute call, you'll understand why clients return to Outsource Marketing for RFP writing needs and how our proven system delivers results.
We'd be happy to share examples of our work and answer any questions you may have. Let's get to work.