Proposal Check-Up
Never miss the mark again
Dramatically Better Proposals
Show us your best proposals, and we'll evaluate them using our 21-Point Proposal Check-Up. Our analysis will reveal how your bids stack up against best practices across the 21 most important elements of a winning bid.
You'll get answers to your biggest questions. What do evaluators want to see? How should I write my content? How can I make my proposal look professional? How do I make the most important information stand out? All of this will become clear after receiving your 21 Proposal Check-up report.
You may also want to consider our proposal writing service.
Why Your Proposals Don't Win More Often
Evaluators see the same messages, the same writing styles, and the same design quality, over and over again. Too often, the writing is dull and self-involved. What's more, this content is usually being recycled, regurgitated, and presented in a bland-looking document.
It's not that firms are lazy—it's just that they don't know what a winning proposal looks like. They don't have access to professional writers and designers who have made persuading evaluators their life's work. This is where the 21 Point Proposal Check-up comes in.
21-Point Proposal Check-Up
Our 21-Point Proposal Check-Up outlines the winning strategies and best practices of successful submissions.
It's a "recipe for success" for your next winning proposal.
In developing the 21 Point Proposal Check-Up, we began by identifying the 21 key elements of a winning submission. They cover every facet of a proposal, including:
Win strategy development
Narrative (style)
Cover page
Narrative (content)
Introductory letter
Design
Executive summary
Layout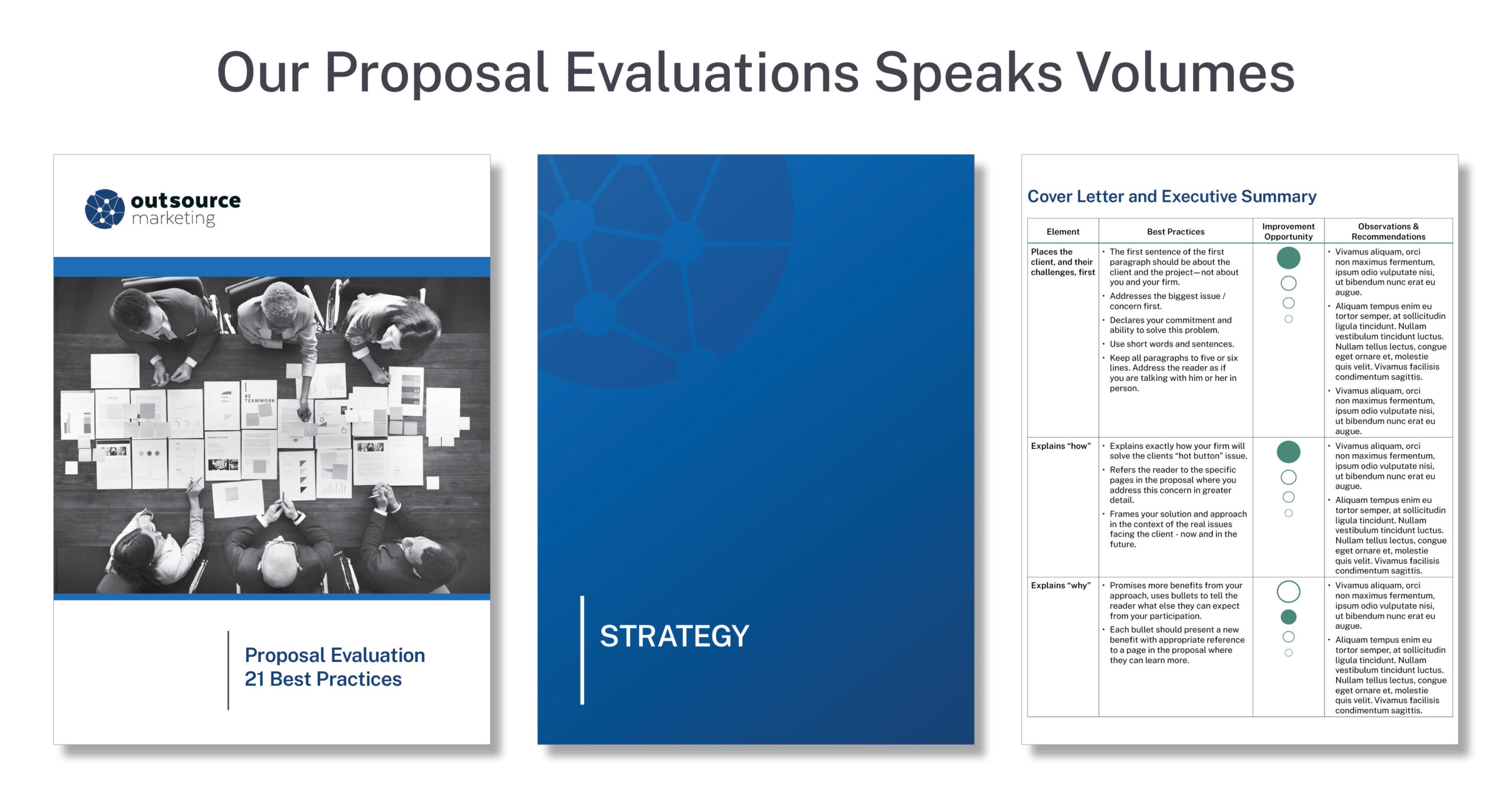 Best Practices
Based upon years of practical experience, research and feedback from evaluators, we then identified a list of best practices. These best practices provide concrete ideas and examples on how to dramatically improve each of the 21 key components. And create a winning submission in the process.
Get access to professional writers and designers who have been winning multi-million-dollar proposals for over a decade. We will show you exactly what went wrong with your submission, and how you can dramatically improve your chances of future proposal success.
Stop Investing So Much Time and Energy on Losing Proposals
Spending hours crafting what you think will be a winning proposal, only to find out you aren't the winning proponent can only be summed up by one word: defeating.
It's time to stop investing time into losing strategies. There are simple changes you can make that can make drastic improvements in your odds of winning. We comb through thousands and thousands of proposal pages every year. We know what works and what doesn't.
We've Helped Win 450+ Proposals Worth More Than $1B
We've worked with clients from nearly every industry – from small proposals worth thousands, all the way up to $750 million government contracts. When there's an important project, firms turn to us.
Book your Free Consultation Today!
During an initial 15-minute call, you'll understand why clients return to Outsource Marketing for their proposal writing needs, and how our proven proposal system delivers results.
We'd be happy to share some past winning proposal samples.