Proposal Content Library
Your Template for Bid Success
The Winning Formula for a Proposal Content Library
Thinking about creating a proposal content library?
As a leader of your organization, you know your company's strengths, value proposition and how your service offering outperforms the competition – probably better than anyone. And it's your responsibility to bring in the next big project by authoring an incredibly compelling, persuasive proposal.
If you are reading this, likely, you are concerned that your organization is not putting your best bid forward every time. Maybe you've lost a few recently that you should have won. Or perhaps, you received some feedback that your submissions are falling behind the competition.
Regardless of the reason for reaching out for professional support, you are in the right place. With a library of professionally written content and design templates, you'll have the winning formula for winning your next RFP.
Better Proposals, Healthier Business
But here is the disconnect.
You have great ideas on differentiating your firm and its service offering but struggle with writing compelling, persuasive copy. You also probably sense that your bids' design and layout don't communicate the level of professionalism your firm deserves.
Not to mention the fact, but I will, that you've probably never read a best-in-class proposal or a submission from an organization delivering a similar service. We have and can show you the way to better proposals and a healthier business.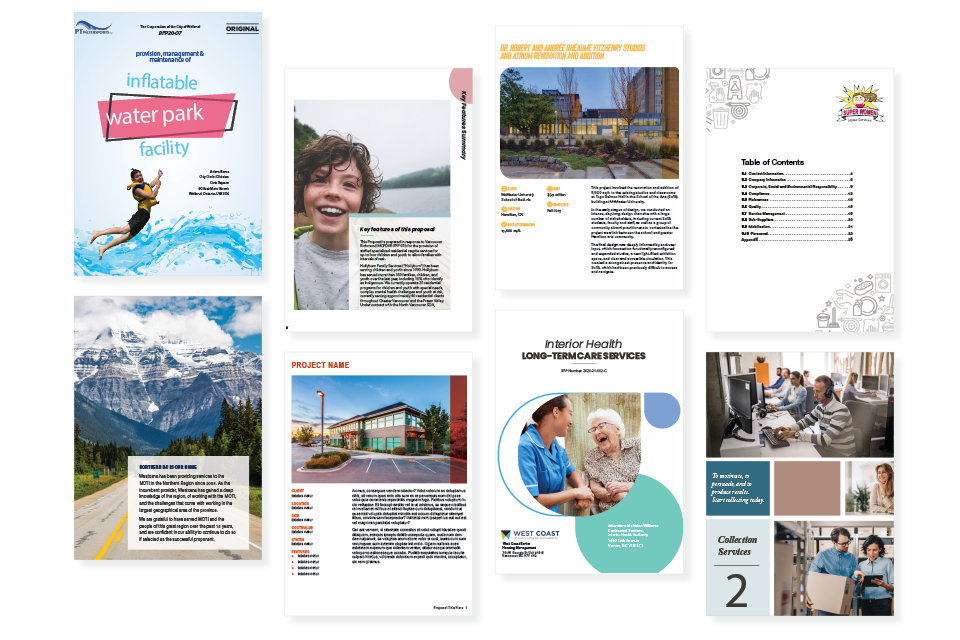 If you're like most of our clients, you invest an enormous amount of time and energy in writing proposals. But if they don't do justice to your organization's greatness, you are doing yourself and your employees a real disservice.
Responding with confidence starts with a library of professionally written content and expertly designed proposal templates.
With over 500 submissions to our credit, we've perfected the art and science of persuasive proposal copy. And if you want your proposals to communicate professionalism, the right design and layout will do wonders for your firm's reputation.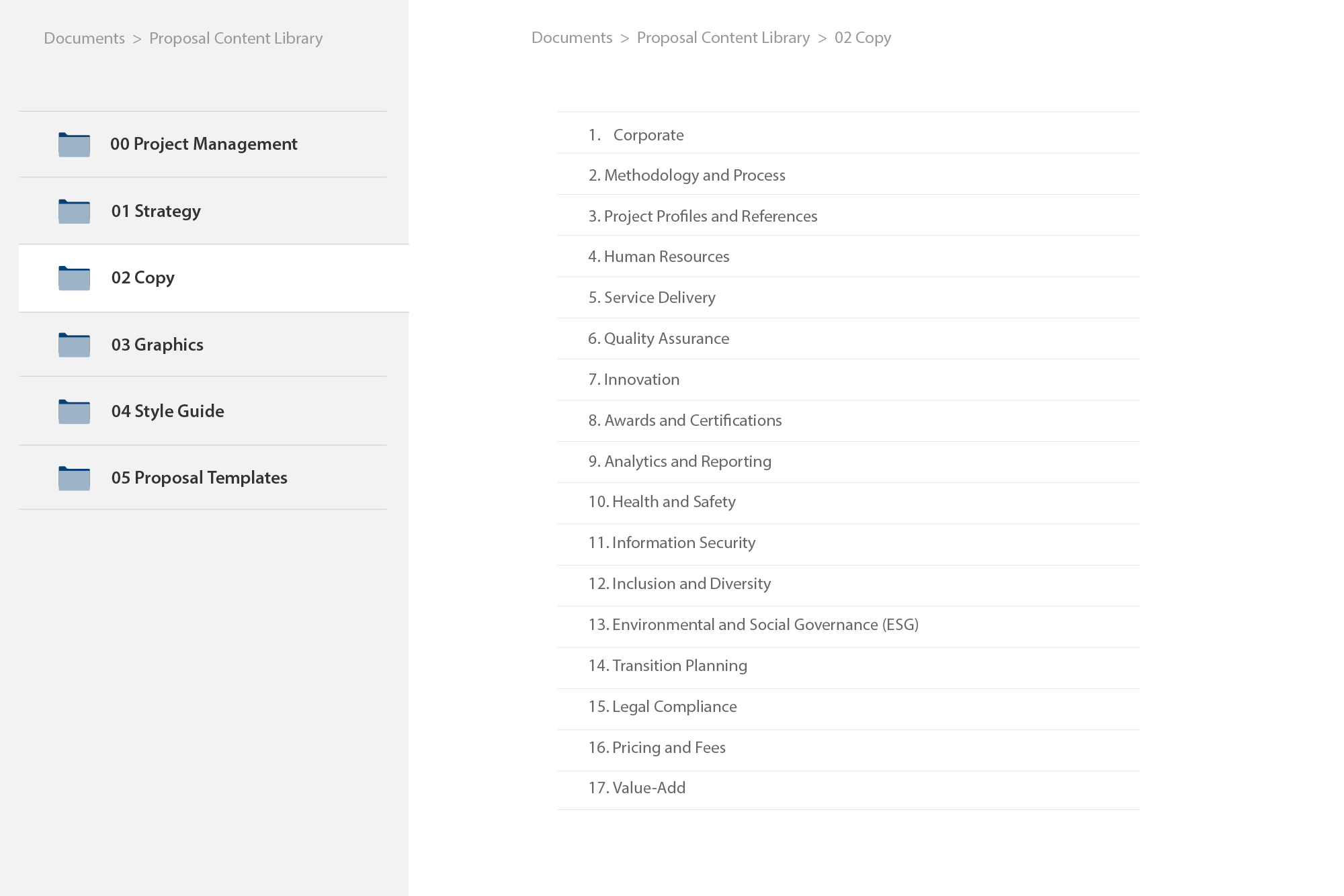 Respond Quickly, Efficiently,
and Professionally
To create winning proposals, you need easy-to-customize content and design templates.
A well-planned and structured proposal content library features responses to frequently asked RFP questions, specifically formatted and prepared for repurposing and tailoring to address the issues and concerns of your potential new client.
The time saved can then be redirected towards more value-added, proposal-related tasks, like authoring a compelling executive summary, a cover letter or contacting references to ensure they are ready and equipped to give your organization a glowing recommendation.
Our team is ready to develop a library of proposal-ready content for your organization, a source of valuable information that captures the critical points of your competitive differentiation and describes your firm's unique value proposition.
Respond quickly and efficiently, demonstrating your firm's professionalism with a library of proposal copy and design templates.
One-Time Investment,
Ongoing Dividends
Your journey to more powerful proposals starts with a strategy session. Our team will learn about your organization, its strength, weaknesses and competitors. We will also have an open conversation to understand better how best to position your firm for success and differentiate it from an army of competitors.
We'll explain what we've learned over the past decade regarding the key principles of persuasive copy and attention-captivating graphics and our approach to incorporating a slew of best practices to make your proposals shine.
Next comes the heavy lifting. Our team of writers and graphic designers will implement our writing and graphic design best practices, weaving in your brand positioning strategy. Our deliverable to you is a library of content and bid design elements that will serve your business exceedingly well for years to come.
The work is not easy, and it doesn't happen overnight. But in six to eight weeks, your investment will yield an asset that will produce dividends in the form of new clients and exciting projects for years to come.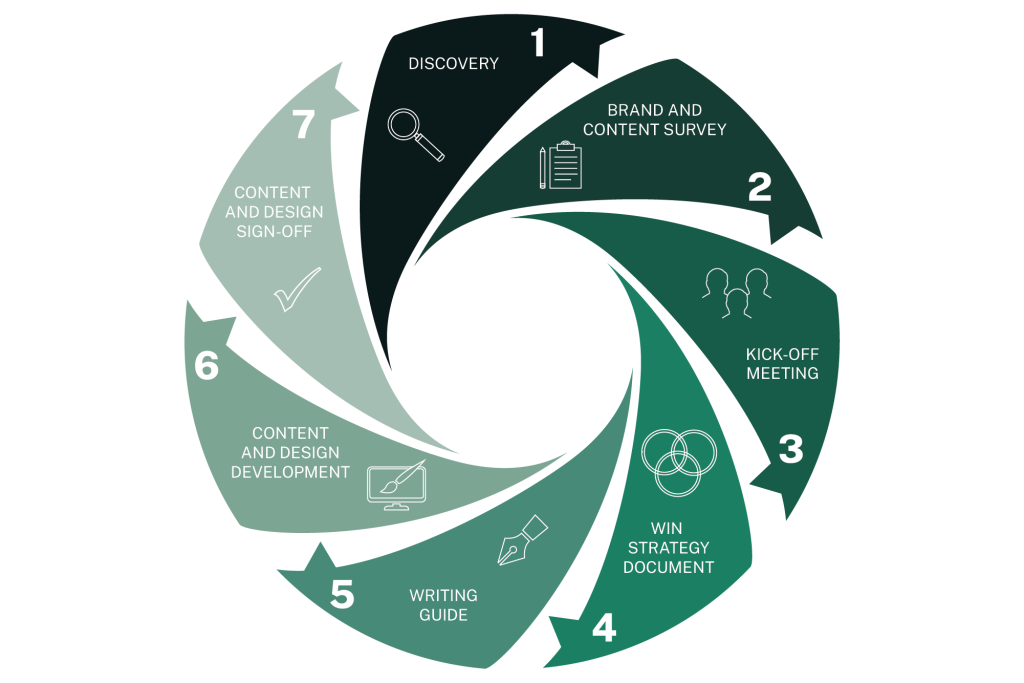 More Work for Your Business, Less Work for You with a Powerful Proposal Content Library
Are you confident that the proposal copy and design are strong enough for your organization to win, at least, its fair share of RFPs? Do you think a library of professionally written and designed templates is the most efficient and cost-effective way to secure new business?
Or maybe you are unsure and want to learn more.
Either way, please reach out today and let's start the conversation. We'd love to put you on the path of responding confidently every time you submit a bid.
Book your Free Content Library Consultation Today!
During an initial 15-minute call, you'll understand why clients return to Outsource Marketing for their proposal writing needs, and how our proven proposal system delivers results.
We'd be happy to share some past winning proposal samples.