Improve Your Proposal Win Rate with 3 Battle-Tested Strategies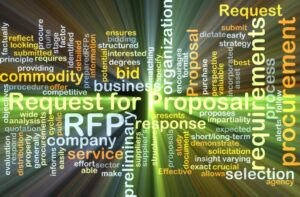 Many firms invest a lot of time and money pursuing work by responding to Request for Proposals (RFP) and Request for Qualifications (RFQ). At Outsource Marketing, we have helped clients successfully navigate the challenging and often complex proposal process. As a result, we have learned how to develop a winning proposal.
The following three, battle-tested, sure-fire strategies will improve your chances of success on your next submission.
A Compelling Win Strategy
Why Us? It's a simple question, but finding a compelling response requires effort. If you don't invest enough time at the very beginning of a pursuit, identifying how your firm is uniquely positioned to deliver the prospect's project, your chances of success are low. We recommend approximately 15% of your entire proposal preparation time be spent developing an effective Win Strategy.
Put yourself in the place of the evaluation committee. What do you want them to remember about your firm once they turn the last page of your submission? And how do you want them to feel about your firm? Providing a list of comparable projects alongside personnel with relevant experience is not enough to win the job.
An effective win strategy demands that you develop a much deeper understanding of the project, and a true appreciation for the client's concerns and aspirations. It's essential that you describe your personnel, projects and processes in a way that helps the client understand how your firm is the most qualified to make their project a resounding success.
Your Win Strategy must go beyond demonstrating that you understand the technical demands of the project. It must show that you appreciate the project on an organizational and individual basis as well. How does this project fit into the larger objectives of the organization? Who are the decision makers, and what are their concerns or aspirations?
It's important to remember that a compelling Win Strategy is what ties everything together. It's the overarching message that needs to be present in nearly every facet of your submission. It's the unifying theme. And it's there to be found – it just takes some work to uncover.
Once identified, your Win Strategy should find its way into every facet of the submission – from the cover letter and introduction through the narrative, graphics, images and document wayfinding.
Communicate on Multiple Levels
It's a fact – we all absorb information in different ways. Some people assimilate from the written word, while others learn more from charts and graphs. And then, there are many of us that prefer to gain insight from images and pictures.
The challenge for firms that rely on proposals to generate revenue, is to determine how best to communicate the most important pieces of information to ensure that evaluators notice. The answer is deceptively simple – all of the above.
We guide our clients on how to communicate the most important pieces of information on multiple levels – increasing the likelihood that it gets absorbed by all members of the evaluation committee. The most important elements of your proposal, particularly those that support your Win Strategy, should be communicated in words, pictures and graphics.
Faced with the task of assessing upwards of ten proposals, many exceeding 200 pages, it's only human nature for evaluators to skim parts of your submission. The only way to guarantee your message gets across in a clear manner is to communicate every important piece of information on multiple levels.
Show Them How You Think
The truth is, no two projects are the same. No matter how hard you try, the client will always see differences between their project and your relevant portfolio.
Every project has unique challenges and opportunities. Winning proposals go beyond demonstrating that you have completed similar facilities. They demonstrate how you solve problems, overcome adversity, and turn challenges into opportunities. It is this kind of information that clients want to hear. The evaluators understand that each situation is different and that there will be risks. Demonstrating how you manage risk and how you have solved similar challenges on past projects will provide clients with peace of mind.
Identify specific elements of your past projects that are similar to the potential challenges that could arise on their project. Explain in detail how you overcame these challenges through innovation, process or value added solutions. Finally, make the connection to the project at hand, and clearly show the relevance.
Remember, 'confidence' is the operative word. It is important that you demonstrate successfully completed past projects of similar scale and scope. This part of your proposal is a given. However, to truly earn the evaluation committee's confidence, you need to show them how you think.
Conclusion
There are no guarantees in life. Especially when it comes to predicting proposal success. However, in order to improve your firm's proposal success rate, consider developing a compelling Win Strategy, communicating the most important elements of your submission on multiple levels, and showing evaluators what you think.
To learn more about how we can help you win your next proposal, please visit our proposal writing services page.