How to Hire a Marketing Consultant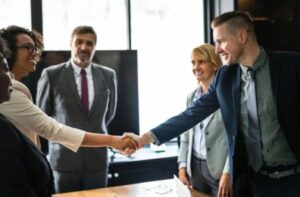 You've decided to take the plunge. Whether because of a slow spell, a new competitor or just the need for a more focused strategy, you've weighed the options and decided it's time to hire a marketing consultant. Maybe you need a consultant to help write an important proposal, business plan or develop a content marketing strategy to generate new leads for your business.
The right consultant can work wonders for your business. Choose poorly, however. and you'll find yourself paying potentially exorbitant fees and getting very little in return. To know how to hire a marketing consultant, ask yourself and potential consultants the following questions.
What Does Their Work Look Like?
When looking for a marketing consultant, it's important to try and get a feel for their work. The first step is to take a tour of a few consultant websites. An agency that plans on helping you improve your marketing efforts should absolutely have a good handle on its own. Is the website clean and easy to read? Does it look professional? Can you navigate it easily? Is the copy on the page free of typos, spelling errors and glaring grammar mistakes? If the answer to any one of these questions is no, move on. A consultant who can't market themselves well can't market your business well either.
In some cases, you may have the opportunity to go beyond the website. Contact the business strategy consultants who pique your interest and ask for more information or discuss pricing and options. If the firm sends you a follow-up email, brochure or other materials, peruse them carefully and make sure you like what you see. Ask to see a portfolio if you opt to explore further. Reputable firms will be happy to show you some of their work.
Do They Know Your Industry?
The right business strategy consultant will know your industry nearly as well as you do. Never settle for a one-size-fits-all approach. A consultant who specializes in retail sales, for example, may not understand the nuances of marketing a firm that provides services rather than tangible products. Service industries such as healthcare, engineering and transportation require a vastly different marketing approach than department stores or restaurants.
Is This a Solo Act?
If your business started small, you know how many different hats a business owner must wear. You also know that some of these hats fit better than others. That's why you hired an accountant to handle complicated tax issues and a lawyer to protect your startup. The same theory holds true when hiring a marketing consultant.
A good marketer may have a wide variety of skills, but no one person can do it all. Look for a consultant who has a strong, multi-disciplined team behind them. Implementing a marketing plan may require a graphic designer, website developer, blog copywriter and other professionals. A consultant needs to have creative ideas and the firepower to execute them.
Will They Provide References?
Always ask a business strategy consultant for references and check them before working with him. Too often, businesses ask potential employees and consultants for references and then fail to actually check them. Of course, any sane person will give out only references they feel will speak highly of them, but you never know what you might learn through a reference check. Ask the references what they liked about working with the consultant and invite them to candidly share anything they didn't. Checking takes time, but it's well worth the effort and can save you a headache in the long run.
Will They Prepare a Proposal?
Once you've narrowed your options to a handful of consultants, ask each of them to prepare a proposal for you. The proposal should clearly identify the marketing problems observed in your business and outline how the consultant plans to solve them. This may feel like you're putting the cart before the horse since you're asking the consultant to analyze your business before you hire her. Remember, though, that there isn't any point in hiring someone who can't really help you.
When looking over the proposals you get, choose the one that speaks to you. If you already know some of your marketing plan's issues, check the proposals and look for the consultant who identified the same issues you did. A consultant should also spot problems you missed. They should, however, make sense to you and seem logical once they're pointed out to you. The consultant to choose is the one whose proposal gets you excited and contains ideas that sound promising.
Will They Talk Turkey?
A consultant's proposal will lay out a plan for your business, but there is more information you need to know. Price, for example, is a key factor. Before entering into a contract with a marketing strategist, you need to know what they will charge you and exactly what you're getting for that money. It's sometimes worth going over budget a bit to get top marketing talent, but no one has a bottomless bank account. Understand the fees you'll pay, what they'll buy you and when they're due.
It's also important to understand how and when you and your consultant will communicate. Which parts of the marketing plan will each party claim responsibility for and ownership of? What can you expect from your consultant, and what does he need from you to get the job done well? How will the two of you measure the success of the relationship? All of these details matter. Don't hire a consultant unless and until you can agree on what to expect from each other. Like any relationship, this one will fall apart if you both go into it with different ideas.
Could You Be The One?
It's true that you and your consultant aren't going to ride off into the sunset together to start an epic romance, but you'll still know when you've found "the one."
The right consultant will freely provide references and examples of their work. They won't hesitate to share their thoughts about how they can help your company, and they'll be forthcoming with information concerning what marketing consulting services they provide, and how much they cost.
The sooner you start looking, the sooner you'll find your perfect match. With these five questions, you know how to hire a marketing consultant. Start shopping around today for the consultant who will bring you better marketing tomorrow.
How to Hire a Marketing Consultant
Contact us today to learn how one of our marketing consultants can help generate more leads and grow your business.