How to Become a Trusted Advisor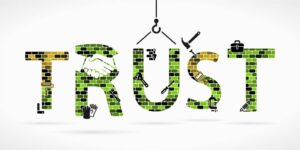 Becoming a 'trusted advisor is the ultimate goal for many professional services providers. I've heard it many times from a wide range of clients, including architects, engineering and construction firms, accountants and financial planners.
It's a worthy objective, to be sure.
As a trusted advisor, your role evolves into one that's more encompassing and built upon trust. The relationship becomes less transactional and more strategic. You are given the opportunity to get involved in a wider range of activities and add value to the relationship in ways outside of your initial scope. Your voice, and the advice you provide, is valued above others. And as a trusted advisor, you are less likely to be replaced by another firm due to price, and often enjoy longer, more profitable engagements.
But here's the challenge.
Even though most service professionals want to become trusted advisors to their clients, they don't know how to do it or where to start.
Wanting to be a trusted advisor does not make it so.
Becoming a trusted advisor takes time and a thoughtful approach to building confidence and instilling trust. Concrete, specific steps need to be taken to earn the title of trusted advisor.
Confidence, and eventually trust, are built upon five widely-accepted principles. To become a trusted advisor, you need to understand each principle and take specific actions to build them into your client relationships. These five principles must become the foundation of your business, and your relationships:
Credibility
Reliability
Transparency
Consistency
Client Orientation
Credibility
Establishing credibility with a client often begins well before the relationship. It exists in the realm of your words and starts by sharing your thoughts and ideas – often on your website, blog, or through articles that feature your work.
Credibility is based upon on your level of expertise and how you present your knowledge and unique perspective. Commenting on others' work, and offering a different point of view also helps to establish credibility.
Here are a few actions you can take to boost your credibility:
Be clear on your area of expertise, and try to create a unique approach or perspective
Explore the idea of creating a 'process' brand – a name, logo or graphic that represents your unique approach to service delivery
Start a blog and contribute regularly
Position yourself, or your firm, as an expert or thought leader through content marketing
Reliability
Consistently doing what we say we will do is the cornerstone of establishing reliability. It exists in the realm of our actions. Based on the actions you take, reliability is built over time. But it can be destroyed in an instant.
Do you fulfill the promises you make? Do you deliver on your commitments? Do you create opportunities that help you demonstrate reliability? Boost your reliability with actions that are consistent, predictable and certain.
Here are a few suggestions to improve reliability in your client relationships:
State expectations up front and regularly reinforce them
Make lots of small promises, and consistently follow through
Communicate if you fall behind and take responsibility for any delays
Deliver, and take credit for results but be equally accountable for any shortfalls
Transparency
While building credibility and reliability are relatively straightforward, creating client relationships that are transparent can be more challenging.
Transparency refers to your willingness to share appropriate information about the things that truly matter. The ability to speak with candour to a client is a hallmark of a transparent relationship. With openness and transparency, the real issues will surface and create the opportunity for you to evolve your role into one of the trusted advisors.
Here are a few ideas for creating transparent client relationships:
Be clear on what you do, and what you don't do – don't try to be all things to all people
Be honest about past challenges overcome, and those that taught you how to do things 'differently'
Offer anecdotes of how you've changed your approach, and improved you service-delivery processes over time
Share personal experiences and values with the aim of establishing a common, personal connection
Consistency
When there is inconsistency, especially in communications, building trust will be difficult. Even if you've demonstrated all the other elements of trust, if communication consistency is missing, the rest doesn't matter.
Each party to a relationship, client and service provider alike, must communicate clearly and consistently for mutual trust and respect to develop. Without communication consistency, there can't be a meeting of the minds, which is what a successful service provider relationship is based upon.
Here are a few ideas to communicate with consistency:
Develop documentation that describes your firm's unique value proposition and competitive positioning
Review all your marketing, sales and business development material to ensure that they are in line with your value proposition and competitive positioning
Consider asking a trusted, long-standing client for an independent review of how your firm's service delivery compares with what is promised and adjust accordingly
Client Orientation
We are all, of course, self-motivated to a degree. Client orientation is about moving beyond our own self-interests and placing the needs of the client front and centre.
When trust breaks down, excess self-orientation is usually to blame.
Being client oriented requires that we be motivated by the interest of others. That we believe and act in accordance with that old business cliché – "we are only successful when our customers are successful." It may be a cliché, but it's true – at least over the long run.
Here are a few ideas to demonstrate that you and your firm place the interests of your clients above those of the firm:
Look for opportunities to demonstrate that you have a deep understanding of your client's needs, concerns and aspirations
Ask lots of questions from a place of curiosity with the goal of determining your client's definition of success
Willingly recommend other service providers that may be better equipped to meet a specific need better than you or your firm
Look across your roster of clients for opportunities to make connections that benefit them but may not create a new project for you or your firm
What Now?
It isn't easy to become a trusted advisor to your clients. In fact, it's nearly impossible if you don't appreciate how trust is established and implement a plan to reinforce credibility, reliability, transparency, consistency and client orientation in every facet of your client relationship.