A Day in the Life of a Proposal Writer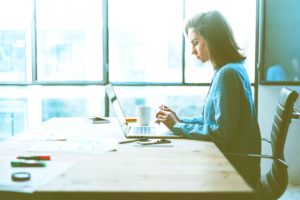 I reach for my iPhone and fumble to turn off my alarm. It is only 6 am and I already have 22 new emails. Not surprised, I scramble out of bed and turn on the coffee. I begin skimming through the messages as the coffee percolates. By the time I pour my coffee, close to half of the emails have been addressed.
As I continue typing, more emails pour in, and my phone is ringing. At this point, I am not ready to take any calls, so I let them go to voicemail. I manage to deal with all of the emails as I finish my second cup of coffee. Before the phone rings again, I quickly jump in the shower and get ready to go to the office.
My car is slowly warming up in my driveway and I decide to check emails one more time. Surprisingly, there were only 12 new messages in my inbox. I quickly open each one and make a mental note of those I can respond to as I am driving. I call the office to update our team on the day's priorities and to let them know that I am on my way.
When I arrive to the office, I am relieved to see that everyone has started working on the priority list.  I set up my computer and check emails one more time before diving into the day. I can't believe that it is almost 9am.
The day is a whirlwind of activities, continuous emails, phone calls, and meetings. My stomach starts to rumble, telling me that I forgot to eat lunch again. I wander down to the café in our building and manage to scrounge up the last remnants of soup they had left.
I walk back to my office and sit at my desk eating my soup as I scroll through ten new emails. One email catches my attention as it is titled "Addendum".  I never know whether to be happy or angry when I see these emails.  This one was to notify us of an extension to our proposal deadline. I am somewhat relieved to know that we have another week but realize that my personal life will have to be put on hold once again.
Our proposal was 90% complete…or so we thought.  With this extra week, our client decides to review everything again and make some drastic improvements.  I host another review meeting to ensure everyone's opinions are heard and incorporated.
The document changes from cover to end, and everything shifts leaving us to figure out how we are going to meet the page restrictions.  We know that we can do it if the changes would just stop coming in for a day to allow us to catch up.
The day before it goes to print, I have nightmares about spelling mistakes and bad typos. I wake up in a sweat, wondering if I caught them all or if, somewhere in the document, an embarrassing mistake is waiting to be found.
I rise from bed and quietly go down the hall to my office, hoping not to wake my husband. I turn on the computer and tap my feet impatiently as my computer tries to warm up.  I open the document, and on the third page, I spot Waldo.  Waldo is the typo that is desperately trying to hide from. Holding back my screams of horror, I fix Waldo and continue reviewing each page with a pedantic eye.  I make it to page 49 and notice an orphan, not the child kind, but the ones that are lonely words left on a page all by themselves.  Again, a quick fix.
My eyelids get heavy, and the pages begin to blur.  I am no longer useful at reviewing as I am scared that I might click the wrong key and blow up the document.  I hit save for the twenty-night time and shut down my computer. After all, I am pretty sure that my computer could also use a night off.
I tiptoe back to bed and check the time on my phone.  Great! I have another hour before it's time to get up and head to the printers. I decided that I might as well start getting ready to face the day.
Printing is always stressful, yet it is rewarding at the end of the day when I can look back at the beautiful document that we produced.  The magazine quality pages staring back at me look crisp and clear with plenty of white space to balance the page.  The document is only 100 or so pages yet so many hours went into perfecting it.
I sit back with each copy and carefully turn each page. It is my last chance to find Waldo before the binders get packaged up and sent to the authority. My client tells me that everything looks good and it can be boxed up, but I still feel reluctant to let my baby go. After all, this proposal was my life for the past two months. What am I going to do now in my spare time?  I say my farewell and let go of my grip. The binders are released into the box, and I will never see them again.
The traffic home is already getting heavy, and I decide it is time to pack up and leave before I spend the night on 101 Highway.  One more quick check of my emails, and I will be on my way home.  The emails have slowed down now, with only three new ones. Two emails thanking my team and me for our hard work and another with a new RFP release. It's a good thing that I didn't start to plan a personal life.